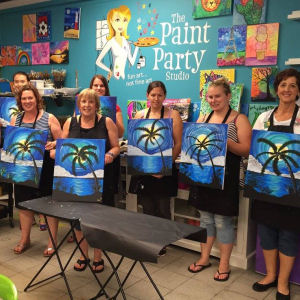 What is The Paint Party Studio?
Our classes are "art as entertainment!" If you have never painted before, our team of local artists will guide you step-by-step on how to recreate the featured canvas painting for that session. If it is a workshop (board art, wine glasses silk scarves window art) staff will be o hand to help you. Get creative by putting your own touches; at the end of the session, you will be surprised at your masterpiece to bring home.
How do I register for a class?
You may register at our calendar page of our website. Click on the date and session you prefer and the site will guide you through the registration process. We will send you an email confirmation once you have completed the registration process. Should you wish to register by phone, simply call our studio at 908 300-6088, we will sign you up over the phone.
IMPORTANT: Because we need to set up your space You must register - no walkins please.

Regular evening sessions are usually adult-oriented. Check our calendar for Kids and Family Day sessions for children 6 years old and up on weekends as well as mini workshops and kids camps! Check our calendar page and "Like" us on Facebook to stay connected.

What is included in the price?
Everything! We provide everything you will need for the class: 16" x 20" canvas, paint, brushes, easels and aprons. We even clean up after you are done! We also have wine glasses and wine openers...you get the picture!

Can I bring a snack or beverage?
Absolutely, we are a BYOB paint and sip studio so bring your a bottle of wine- it may help you paint better! we provide glasses, and bottle openers.

What time do I need to arrive for a class?
We will open the doors 20 minutes before class. We do start the class ON TIME. There is parking on Main Street as well as behind our studio.

Can I reserve seats for my friends so we can sit together?
Yes. Please indicate on registration in the notes section who is in your group we will seat you together

How long is a class?
Depending on the painting, most classes run 2 to 2 1/2 hours and cost $35. We will indicate on the calendar if a painting is a 3-hour class. The 3 to 3 1/2 hour classes will be $45.

What should I wear to sessions?
We recommend that you wear comfortable clothes to every session. We supply aprons for protection against water-based acrylic paint that we use. These paints become water-resistant when they dry, so roll your sleeves up!


May I bring a non-painting guest to class to watch me while I paint?
No, sorry. This is a "hands-on" activity. Our instructors need you to follow step by step. One person per canvas.

Do you offer Gift Certificates?
YES! Gift certificates are available and make great gifts for any occasion. We can email you a gift certificate for you to print out or come in the studio for a wrapped certificate! You can even pick one up at the end of your painting evening!

When does the new schedule of upcoming classes come out?
The calendar for the upcoming month is posted the third week of each month. But if you are thinking of a certain date for a private party, please let us know and if no one has signed up for the public event we will be happy to switch it out! Once again "Like" us on Facebook or "Follow" us on Twitter to stay connected.
Is The Paint Party Studio an art instruction studio?
While you will learn how to create a painting you'll be proud of, the focus is on fun and having a unique night out. During the class we're playing fun music, and gives you the chance to socialize with your date, friends or significant other. It's a class you won't soon forget and our instructors place an emphasis on having fun. We do offer advanced classes periodically for those more serious about learning new techniques and working with locally famous artists...but still having fun. Check our calendar monthly as it is always changing.

Other important information:
During the session, we reserve the right to take photos. These may be used on our social media sites. If you do not want your picture taken for these purposes, please let us know, we want to respect your privacy. Feel free to take your own pics and share on your social media!
The Paint Party Studio reserves the right to cancel a painting session at any time due to class size, weather, sickness, etc. If we feel we need to cancel a painting session, every attempt will be made to notify those that have signed up for session. If you paid online, you will be given the option of rescheduling your session or a refund will be made.