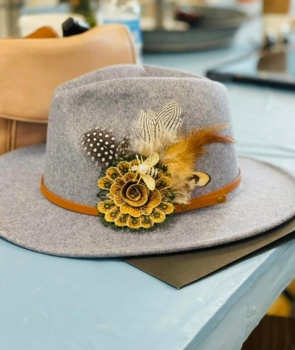 Friday Oct 6, 2023 6:00pm to 7:30pm
Hat Bar

Ready to Build Your Customized Hat?

1. Select your favorite hat from 3 choices and colors, Cowboy Fedora and Wide Rim

2. Select the accessories that speak to you. Take your time, there is alot of eye candy! Including scarves, flowers, feathers, leather embellishments and much more.

3. Belly up to the bar and design and bring your hat to life!
The Paint Party Studio/Hammer and Stain Flemington Workshops
7 Stangl Street
Flemington, NJ 08822