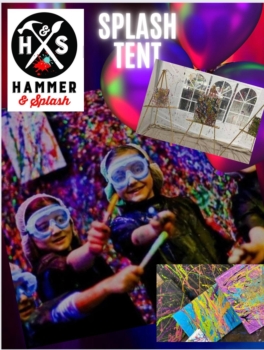 Friday Jun 9, 2023 6:30pm to 8:00pm
YES! You read that right!!!! Splash Tent Friday!

Space is limited! This is our most exciting kids workshop! Ages 8 to 13!

What is a splash tent? A 10x10 tent where we do art by splashing paint onto the canvas and maybe each other!

Don't worry each child will be completely covered using goggles, disposable booties and jumpsuit with hood. They will be covered in paint but when they leave you would never know as they will be as clean as when they arrived!
The Paint Party Studio/Hammer and Stain Flemington Workshops
48 Main Street
Flemington, NJ 08822