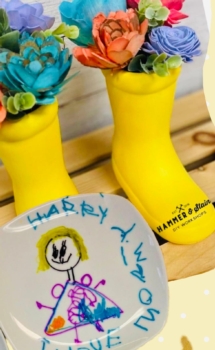 Thursday May 11, 2023 6:00pm to 7:30pm
Dipping wood flowers, Dinner and DIY with Mom, Grandma or any special lady in your life.
all ages welcome!
Our amazing lineup for the evening!

Painting set of ceramic rainboots planter.
Hand dipping Wood Flowers with Mom to fill our planter
Design a special place with your drawing to use to serve mom breakfast on Mothers Day. This is a forever keepsake and is hand washable.
Pizza, drinks and snacks

$55.00 is the cost for Mommy and one child. Options for multiple children sign up available at registration. When registering for multiple children each child will receive their own set of crafts.
The Paint Party Studio/Hammer and Stain Flemington Workshops
48 Main Street
Flemington, NJ 08822