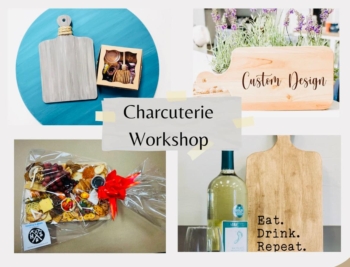 Friday Jun 16, 2023 6:00pm to 8:30pm
What a workshop!

First we stain, stencil and seal your new Charcuterie Board with your choice of stains, designer paints and stencil.

Then....

We demonstrate and explain the essentials components of an professional Charcuterie Board. Everyone leaves with roses made of salami and skills to impress their friends and family.
Join us for this fun & tasty guided workshop to learn the art of creating a tasty & visually appealing 18x8" Charcuterie platter.

This workshop will walk you through the steps to create a Charcuterie Masterpiece from scratch! When the workshop is over you'll be bringing home your tasty masterpiece as well as your serving board to use when you create your own board at home!


What a great way to start the weekend, making a snack to enjoy and show off all weekend long!
The Paint Party Studio/Hammer and Stain Flemington Workshops
48 Main Street
Flemington, NJ 08822