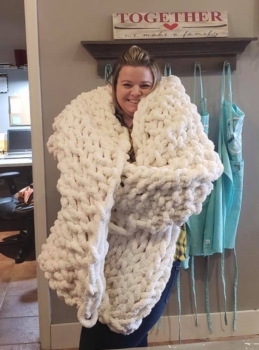 Saturday Apr 8, 2023 5:00pm to 8:00pm
You bring your favorite beverage and I'll bring the Pizza!

Join us in making your own Chunky Cozy Hand Knit Blanket!

Just in time to use at the firepit, boat or a cozy movie night at home.

Cost includes 5 chunky skeins of yarn and 3 hours in the studio with help from our professional instuctors.

Select up to 3 colors. Proceed to sign up to view color choices.
The Paint Party Studio/Hammer and Stain Flemington Workshops
48 Main Street
Flemington, NJ 08822