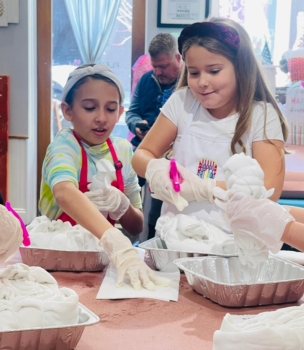 Monday Jul 24, 2023 9:00am thru Friday Jul 28, 2023 12:00pm
We love our Pets and Plushies!

In this exciting week of camp kids will have the opportunity to sketch and paint their own pets and choose a 16 inch Fluffy Friend to stuff and take home.

Throughout the week we will incorporate our wood, ceramic and sea glass projects into out Plushie and Pet theme.

Your child will thrive in our warm, nurturing, and FUN summer camp workshop! This joyous, creative and artsy camp experience is loved by parents and kids alike, our young artists-in-the-making have a blast as they create something different daily. Our amazing staff offers guided instruction for each project! Children get to tap into creativity with child-friendly paintings on wood projects, canvas, collage ceramics and more!!! Ages 6 to 12

This summer we are limiting registration to 15 kids per week!
The Paint Party Studio/Hammer and Stain Flemington Workshops
48 Main Street
Flemington, NJ 08822