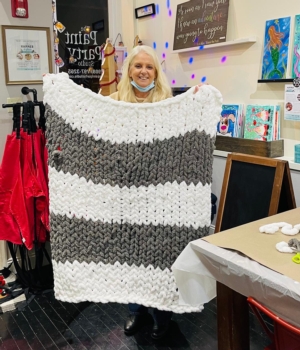 Friday Jan 21, 2022 6:30pm to 8:30pm
Everybody is raving about this blanket! It is the softest, most fluffy blanket you will own.

Cost includes 5 skeins of yarn, please select two or three colors
You will complete the blanket and likely leave wearing it on your shoulders!

This is the happiest workshop!
The Paint Party Studio/Hammer and Stain DIY Workshops Flemington
48 Main Street
Flemington, NJ 08822